Since the hula-hoop boom at the beginning of the Corana pandemic, the hoopdance scene in German-speaking countries has also grown. More and more hula hoop fans want to do more with the hoop than just circle around their hips. Many end up via Youtube or Instagram videos in which the hoop is played more with the hands. I'd like to be able to do that, too, you think to yourself. But how and where should I start and who will teach me all the tricks and skills?
What is missing is an online learning platform for hoopdance! A virtual space that allows you to learn tricks and combos with the hoop when and where you want.
Even though hoopdance is becoming more widely known as a recreational activity through social media, many dedicated instructors, and the press, on-site learning opportunities are often scarce. If you dig a little deeper into the many hoopdance Instagram profiles, you can find tutorials in German, but not everyone likes to teach themselves everything or has a social media account.
Anna, founder of the hoopdance initiative "Hoopsala" has been on the road as a hula hoop trainer in Münster and the surrounding area since 2017. Whether AGs and projects for children, weekly courses for beginners and advanced, workshops via Zoom or at festivals and events. She has already passed on her love of hoop dancing to many.
The highlight, on the freshly baked platform hoopsala.de you can now take out a membership for weekly courses and tutorials. Whether you're just getting started with hula hooping or you're already an advanced hoopie and need regular fodder in the form of trick tutorials and combo workshops. The subscriptions are tailored to your skill level, can be cancelled monthly and you also get exclusive access to a trick catalog.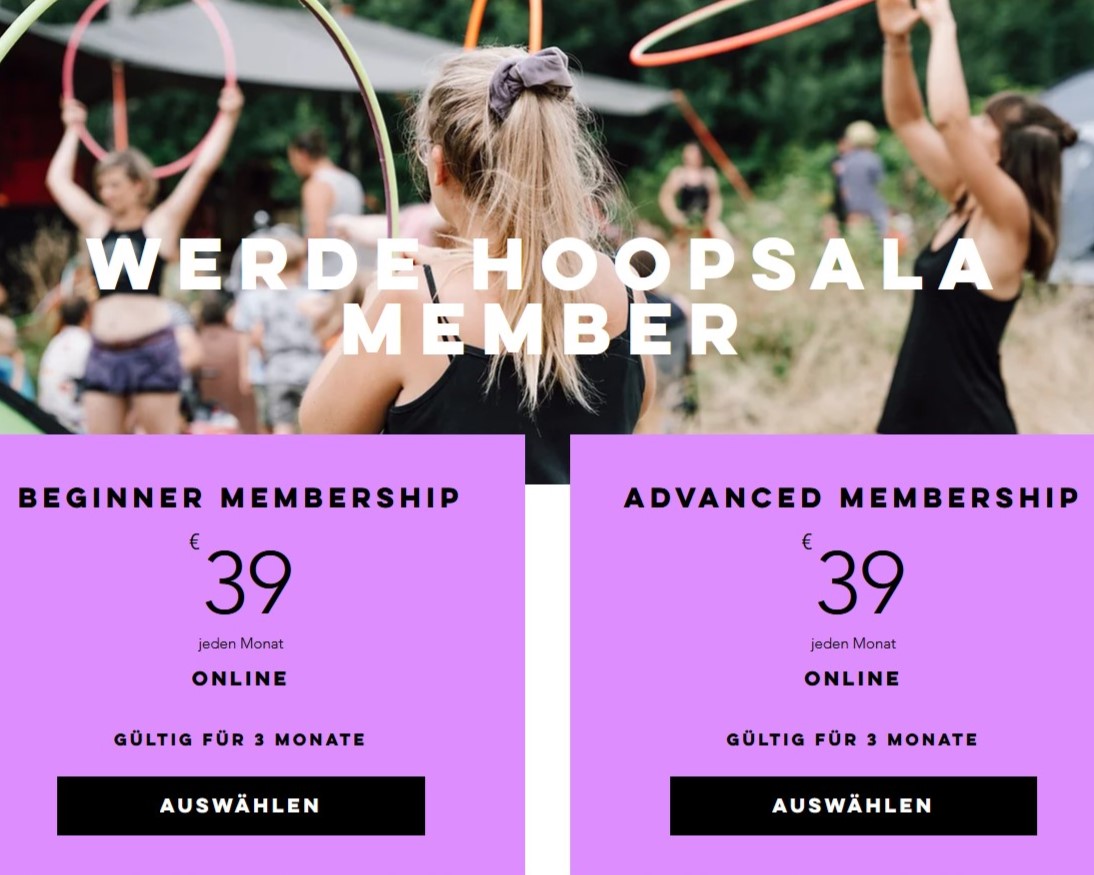 I am not only connected to Anna by my love for hoops and the fact that we live in Münster together. We are both also full-time self-employed in the hoop business. While my focus is rather on the production of high quality dance and fitness hula ho ops and only workshops are scheduled from time to time, Anna is a hula hoop trainer with heart and soul and rocks shows with her performances. In the meantime, many nice cooperations have come up in Münster and we are happy to pass on the Hoopspirit in a double pack. Together we organize workshops at festivals and events, hoopjams in the park or circus projects for children. And for my Hula Hoop manufacture I could even win Anna as a sponsorship.
Just because the hula hoop and flowarts scene is still relatively small and manageable compared to other trend sports, it is much nicer to join forces and cooperate instead of competing. After all, it is equally important to both of us that many more people get to know the benefits of hoopdance: a sport that is fun, releases pure feelings of happiness, and even trains motor skills, dexterity and concentration.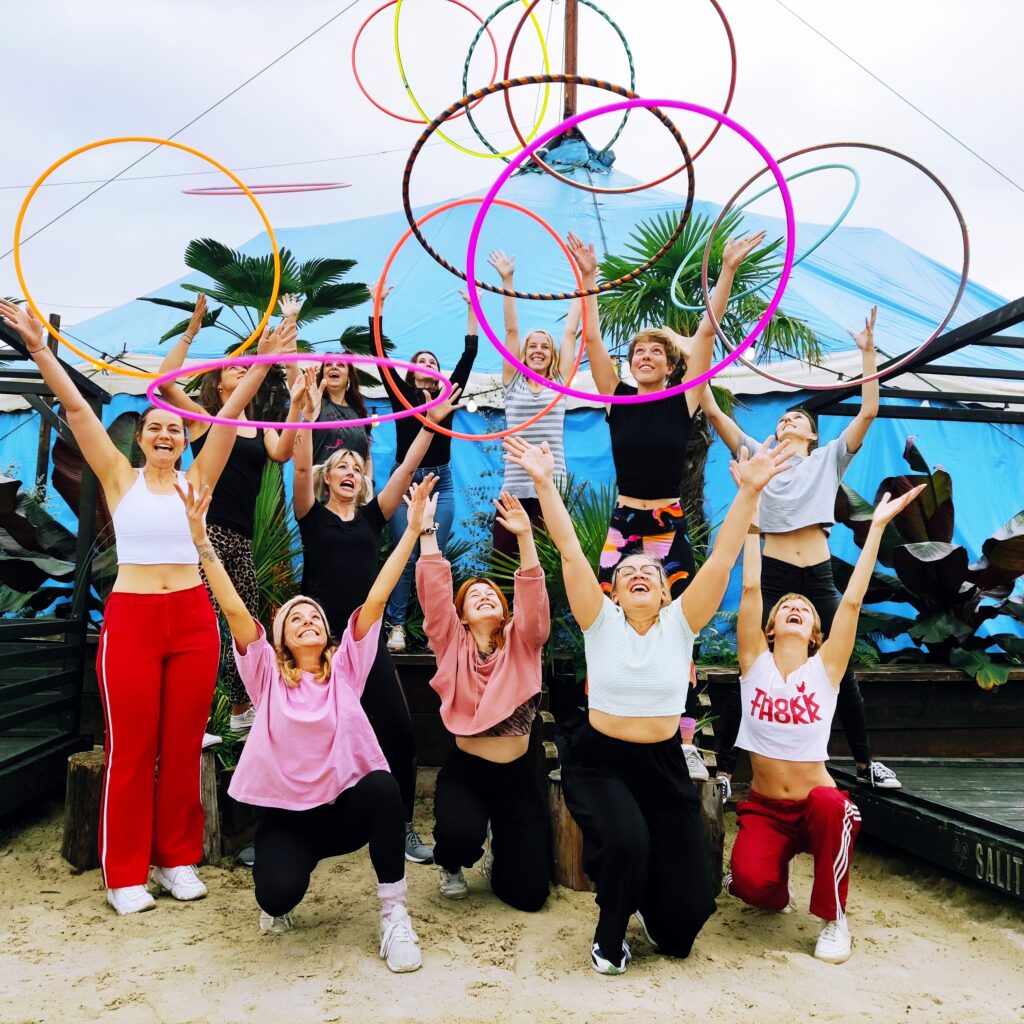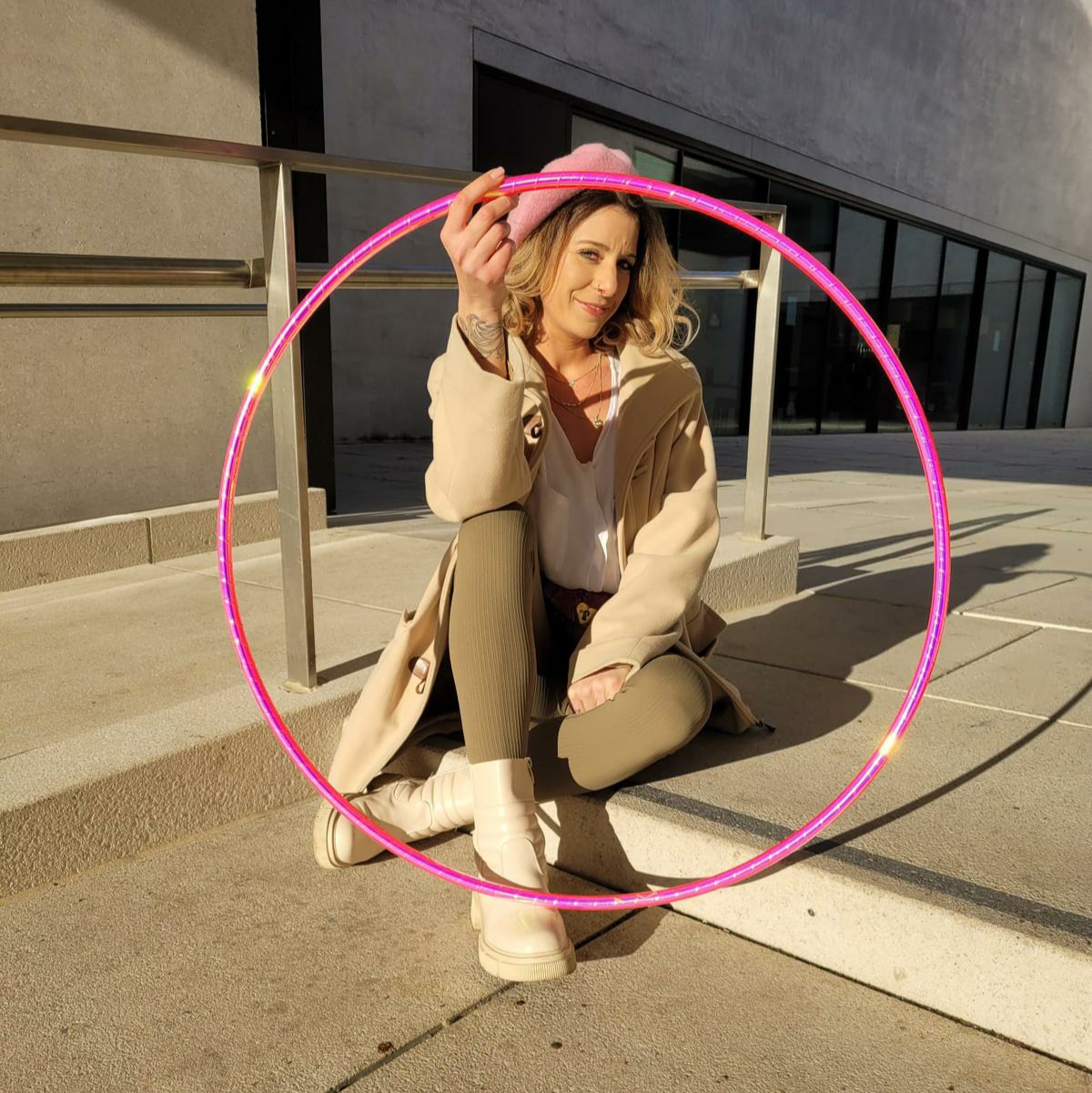 Anna with one of her Lucky Hoops: Model "the Real Barbie
If you want to know more about our work and common projects, you can find a nice article from the magazine Münster Inside here.
I hope our journey together with the hula hoop continues for many years to come, dear Anna!